Jovees Premium Pro Collagen Age Defence Cream 50g
Description: 
Jovees Premium Pro Collagen Age Defence Cream for Screen radiation, sun exposure, dust, dirt, sweat, oil, and grime – after everything your skin goes through, it deserves to be treated to a premium skincare experience. Reduce wrinkles, fine lines, and regain your youthful glow with a layer of protective comfort from this all-herbal anti-ageing cream.
Product Benefits:
It plays a role in strengthening skin, plus may benefit elasticity and hydration.
Collagen may help slow the aging of your skin by reducing wrinkles and dryness.
Makes the skin soft and supple.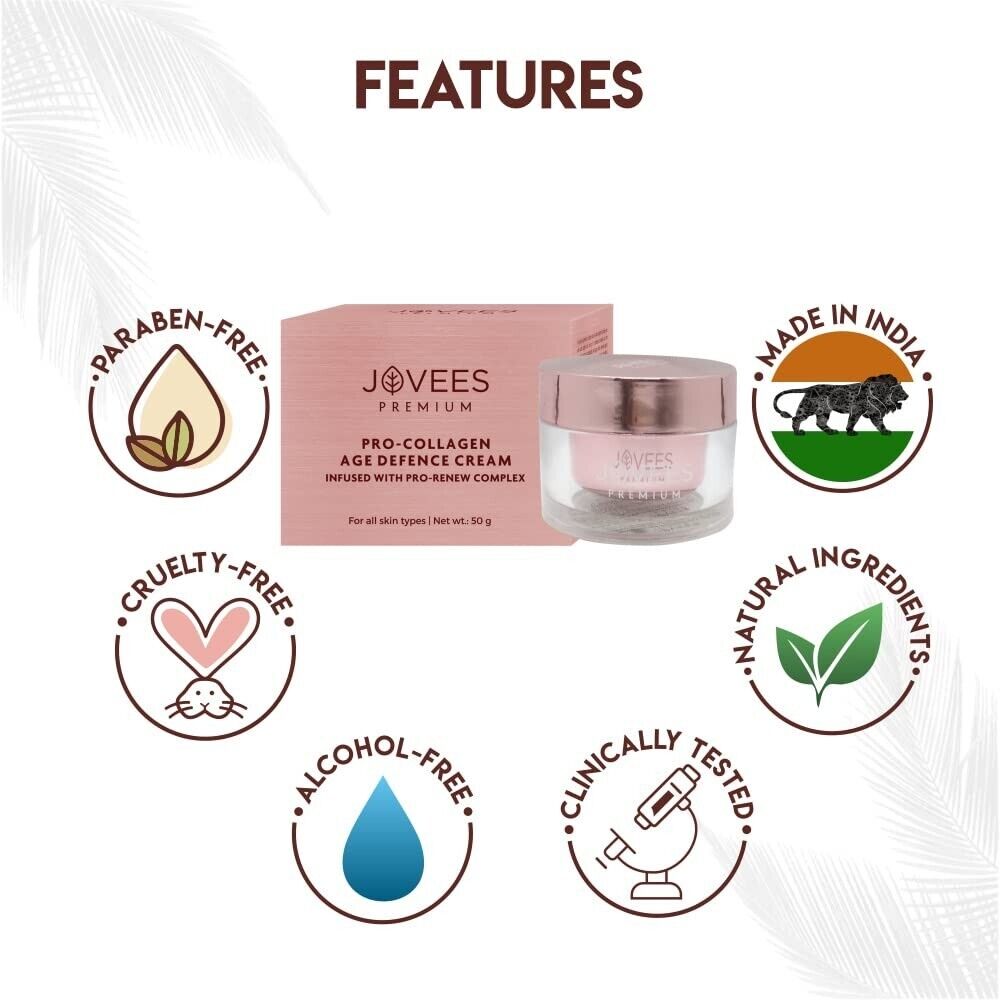 Active Ingredients:
Golden Root Extract , Gingko Leaf Extract , Olkive Leaf Extract
How to use:
Cleanse your face using a face wash, followed up with a toner.
Take a small quantity of the lotion on your palm.
Apply all over face and neck twice a day and leave on.
Item specifics
Skin Type:
Combination Skin
Country/Region of Manufacture: Jovees Herbal,
India
Active Ingredients:
Vitamin e
5 Stars

4 Stars

3 Stars

2 Stars

1 Stars
If you finish the payment today, your order will arrive within the estimated delivery time.
Its hydrates the skin and makes it soft and supple.Also make the skin texture even and helps in tightening of…
Lemon Body Wash | 300 ml | Infused with riceness of Lemon , Raspberry & Avocado Fruit Extracts For Softer,…
Sale!
An excellent recipe for removing tanning and dark spots due to various environmental factors. It shall help improve skin clarity,…
Sale!
Bridal Brightening Face Cleanser Bridal Brightening Face Scrub Bridal Brightening Face Massage Cream Bridal Brightening Face Masque Bridal Brightening Cream
Reduces Dark Spots, Hyperpigmentation & Fine Line Apperances | For All Skin Type
Men Boosting Face Cream Antioxidants derived from Vitamin C. Protects the skin with SPF 15 Reduces fine lines